SAORI Weaving and Denim bag
As you may know from reading many of my posts – I LOVE the colour blue! So, no surprise, I had a piece of SAORI woven cloth that was mainly blues. I had been experimenting with Saori-style log cabin when working on this weaving.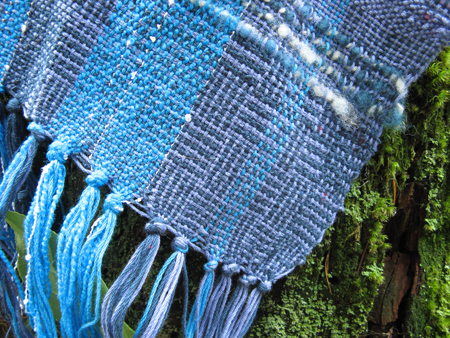 I have wanted to make a new bag for a while now – and had an idea one day when I was at our local thrift store. There was a pair of jeans for $1.00. The legs and hems were not in good shape.
So I bought them, washed them, sewed across the top of the legs then cut the legs off and turned them inside out.
Then, I took my cloth…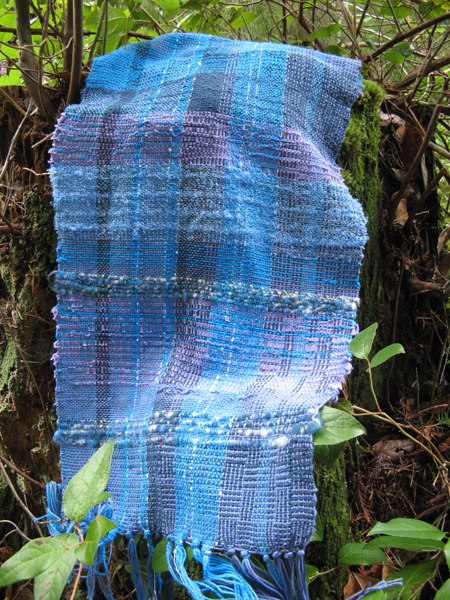 …sewed it into a tube the same width as the hips of the jeans, leaving the fringe end out. Then I sewed across the bottom (right sides together) and turned it right side out. I then took the jeans and put them inside the woven bag – this became the lining – complete with pockets!
Next I pulled on the threads at the top of the bag to gather it in a bit as the waist of the jeans was narrower than the hips. Then I sewed around the top of the jeans and weaving together to complete the bag.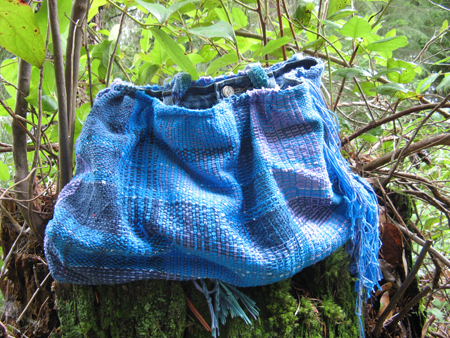 I have used a woven belt as the gathering and the handle too, by putting it through the belt loops.
So easy – I'm so pleased!
Happy Weaving,
Terri
PS – Next time I'll try to remember to take step-by-step photos!
My website: www.saltspringweaving.ca
https://saltspringweaving.ca/wp-content/uploads/2012/02/img_085911.jpg
338
450
Terri
https://saltspringweaving.ca/wp-content/uploads/2016/11/SAORI-Salt-Spring-logo-1-1030x158.jpg
Terri
2012-02-28 17:44:59
2022-10-06 10:51:13
SAORI Weaving and Denim bag