Artist-in-Residence – Spring 2016
Earlier this month I was so happy to host Stacey Piwinski as the Artist-in-Residence at SAORI Salt Spring. When we were setting up the residency, Stacey requested that we go to Pacifica Paddle at the beginning rather than at the end of the residency. She wanted to meet others in this SAORI community and see how that may influence her work during the week at the studio. "We learn from each other"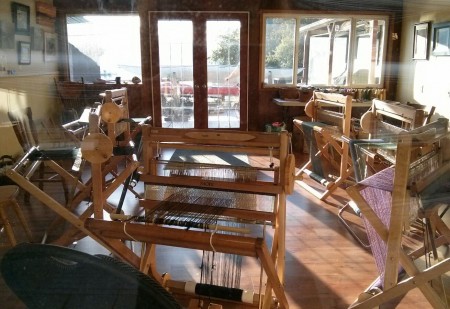 So, we set up weekend workshops and a SAORI Kai. I had a lot of feedback from people after about how much they were inspired by her presentation of her work and her process. One piece that she shared with us was something she had worked on over the period of two years. She wove a piece each month that reflected her life over that month. The following year in the same month she did more work on that same piece.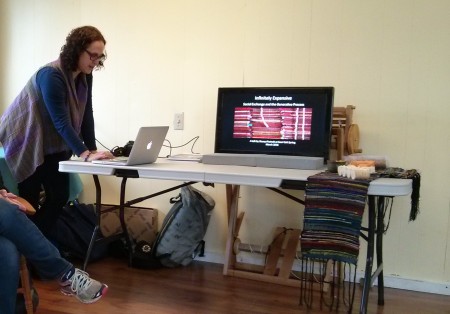 We shared with her some of our weavings and clothing design, wall hangings and pieces of cloth. It was all a wonderful start to the residency.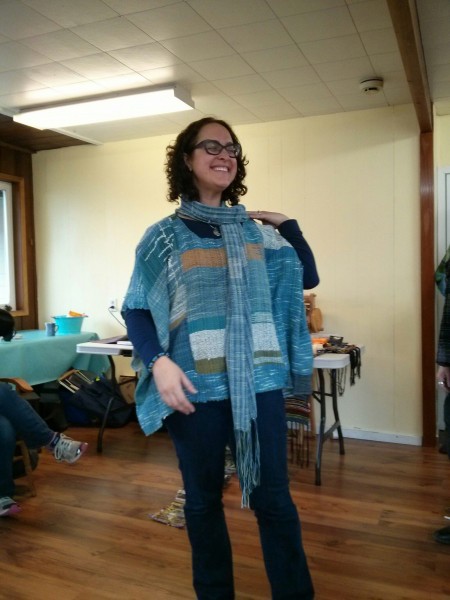 As Stacey was here, she wrote a blog post for every day – documenting the weaving, meetings with people, conversations, places we visited on the island. If you haven't already seen them, these posts are well worth a read. Lots of photos too!
Day 1 – Pacifica Paddle – "Weaving, Water & Butterflies"
Day 2 – SAORI Kai – "SAORI Sunday" – Part 1 & Part 2
Day 3 – SAORI Salt Spring – "Tall Trees and Green Moss"
Day 4 – SAORI Salt Spring – "Delightful"
Day 5 – SAORI Salt Spring – "Wednesday Already"
Day 6 – SAORI Salt Spring – "Kan Ryoku is Sprouting Up"
Day 7 – SAORI Salt Spring – "West Coast Dream Squid"
Day 8 – Victoria – "Headed Home"
Stacey worked on different pieces while she was here including one she called "Little Terri" – this piece incorporated a collection of items that I had given her at the beginning of the week. It was jewelry of mine, collected over years, that I didn't wear anymore.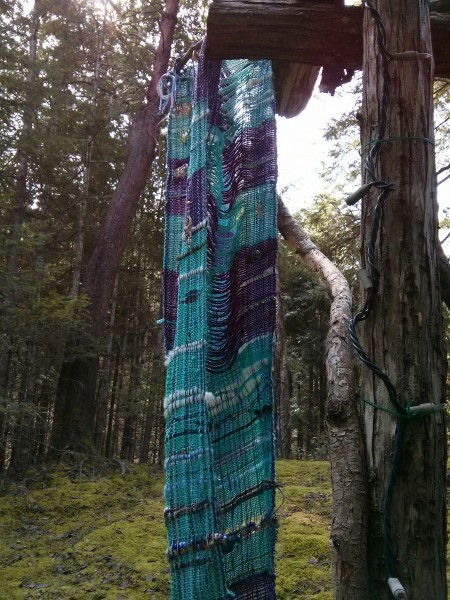 …a mobius (note that there is no fringe!)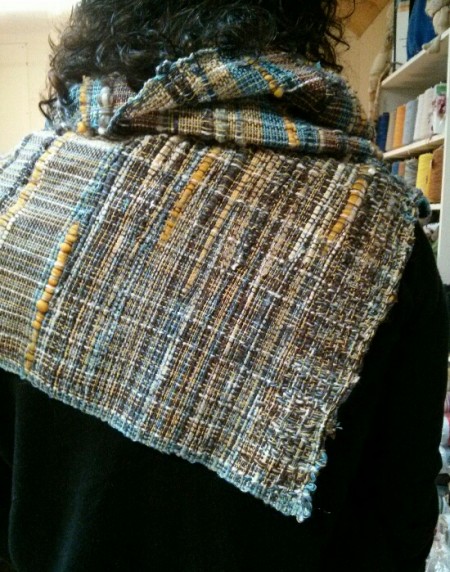 … and a squid vest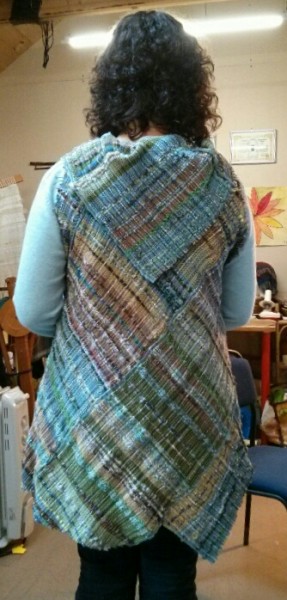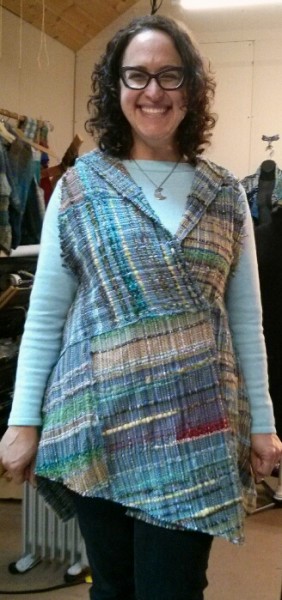 She brought me one of her works – that incorporates painting and weaving and it now hangs next to my SAORI Calendar in the studio.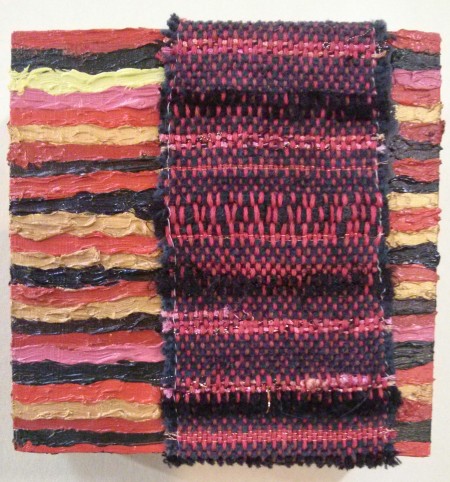 We enjoyed the days, the visitors to the studio and the island…the days went by way too quickly!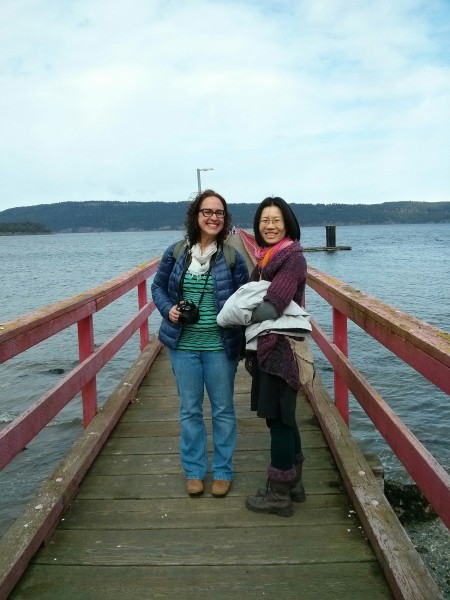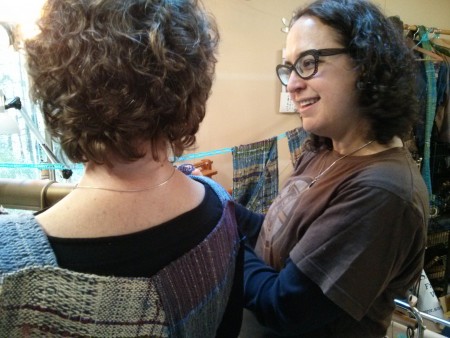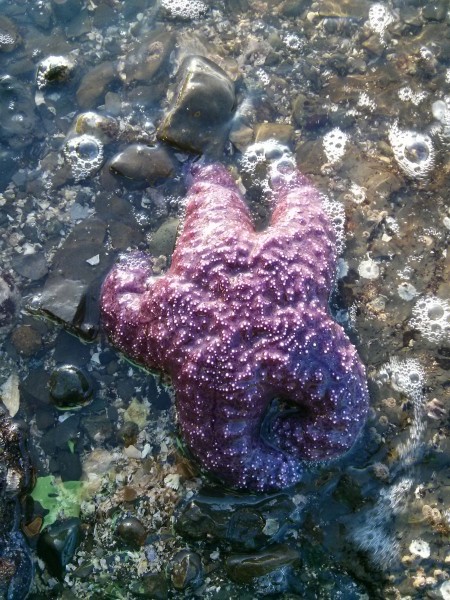 Until next time…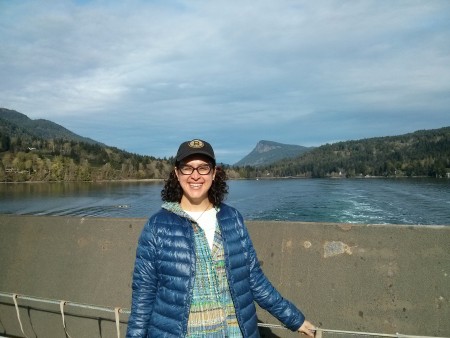 Happy Weaving,
Terri
My website: www.saorisaltspring.com, see some updates on my Gallery page here.
https://saltspringweaving.ca/wp-content/uploads/2016/03/IMG_20160313_145147-450x600.jpg
600
450
Terri
https://saltspringweaving.ca/wp-content/uploads/2016/11/SAORI-Salt-Spring-logo-1-1030x158.jpg
Terri
2016-03-30 20:04:16
2016-11-28 20:57:22
Artist-in-Residence – Spring 2016