The Squid Family – by Lynn Jones
Lynn has been assisting me for many years with all kinds of SAORI events in and around Victoria. She has also been doing some wonderful SAORI clothing design – I'll let her share her story and some great photos!
My weaving journey began in 2006. My weaving 'passion' began in 2009 when I met Terri at a class at Knotty By Nature and was introduced to SAORI. I immediately embraced the free form style of weaving (I'd already strayed from traditional weaving), but also found that the philosophy truly spoke to me. "We do not weave a piece of cloth, but rather our true selves." Six years after that first class, I continue to discover more and more of my creative self.
Terrified at first of cutting and sewing my precious cloth, I gradually, one seam at a time, grew to love creating wearable pieces of art. One of the first pieces I made was the 'squid' vest. It's simple to make, drapes well, and like all SAORI patterns, is as unique as each person who weaves and sews the vest.
The squid vest eventually became a tunic. A cloth I decided to weave using up the end of a black warp with 'treasures' from my overflowing basket was used.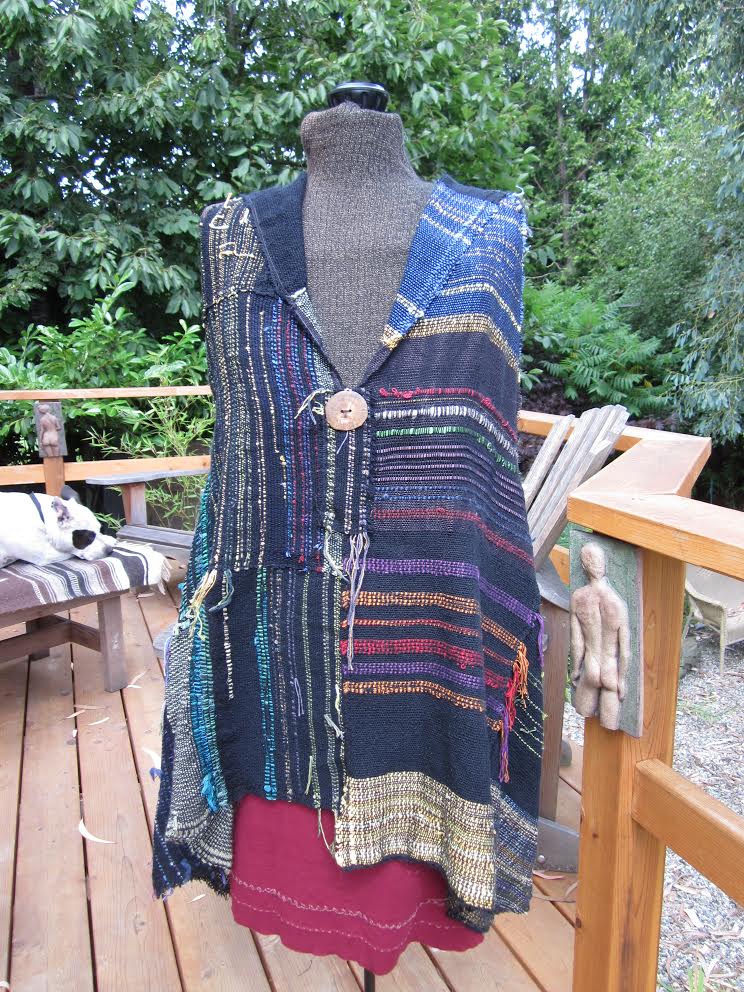 Then, there were the versions of the tunic. One with recycled t-shirt material because I didn't have enough yardage. Then another one as a long vest. Again with t-shirt bits for closures.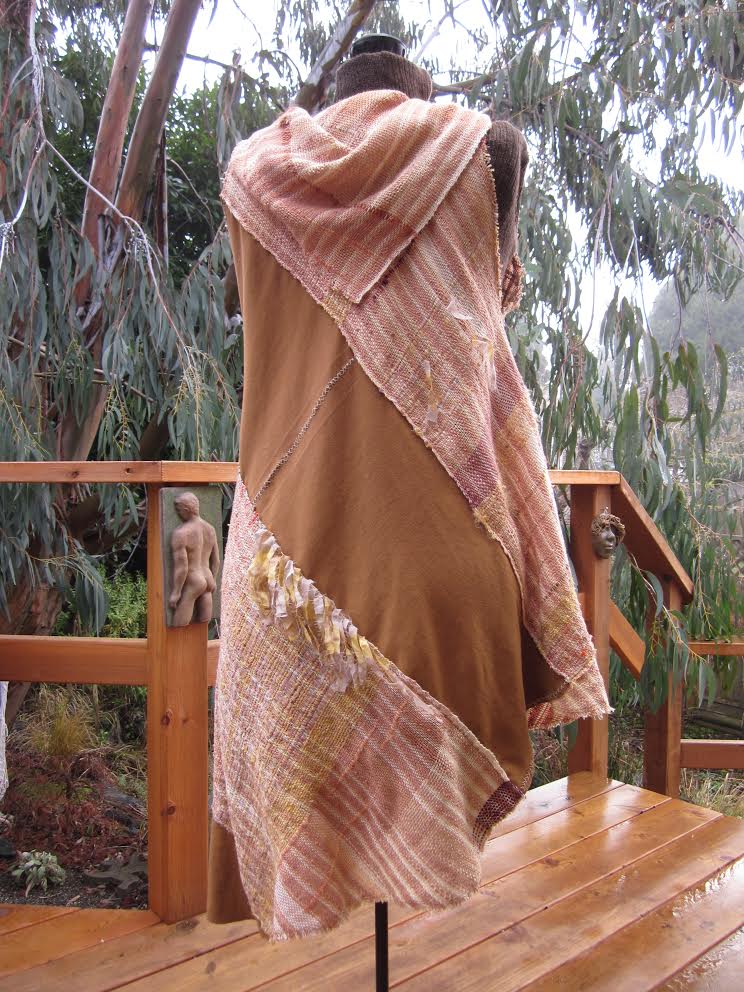 My sewing discoveries have led to jackets over the past year. Victoria, even in the warm months, requires layers. So, the challenge of sleeves! A few jackets later, I remembered my beloved 'squid' vest and it's growing family. I used a pattern that was the 'squid' vest with sleeves.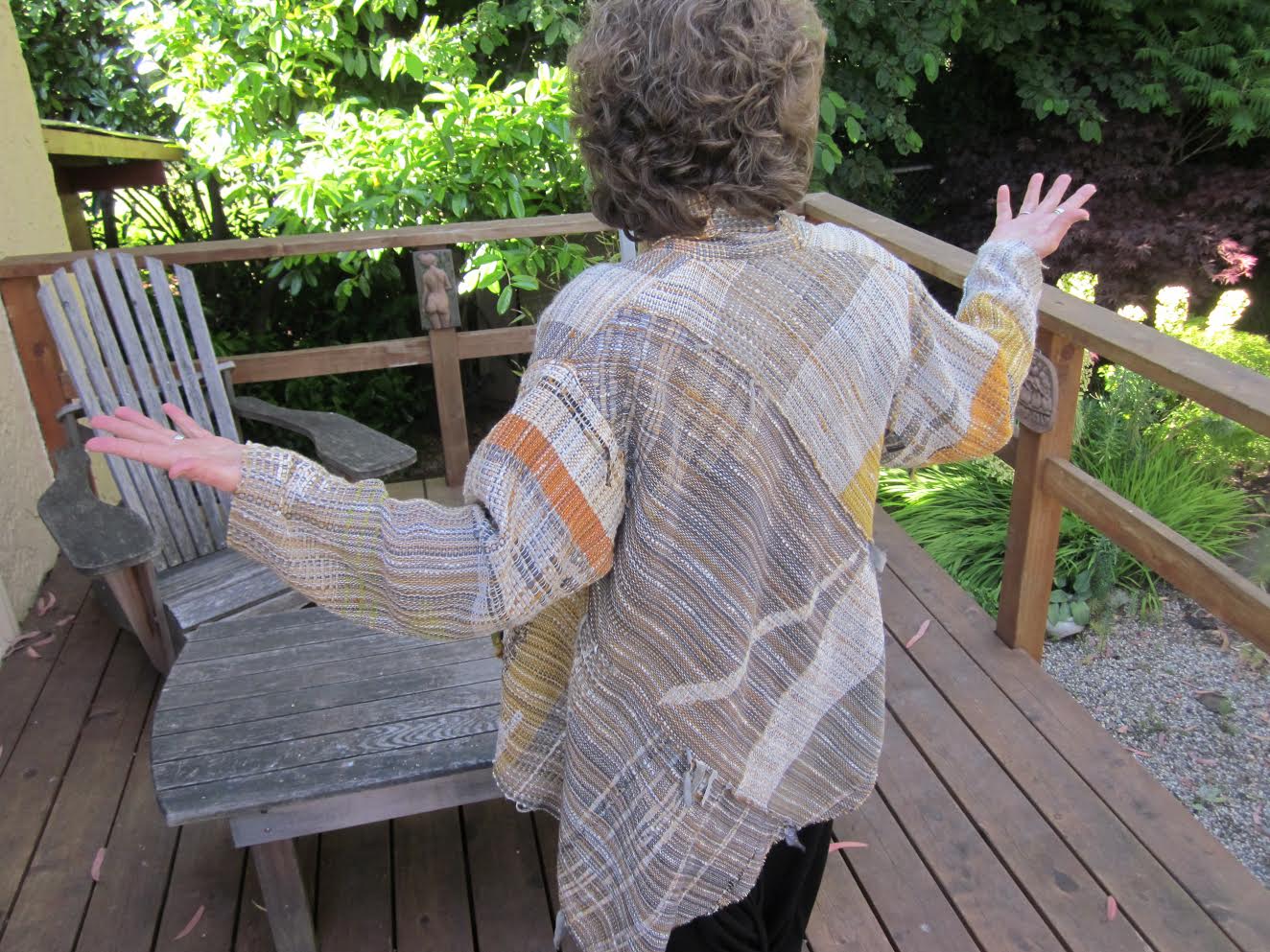 I'm thrilled with the way it turned out. It flows, it's cozy, it has recycled silk shirts. It's finished off with 2 of Bob's buttons. The very first piece of wet felt I made became it's pocket! If it's too warm here in the next 2 months to wear it, I'll just hang it in my studio and look at it!
I hope your SAORI journey is as exciting and satisfying as mine has been.
Thank you for the opportunity to share my 'squid' family here Terri!
Thanks so much Lynn. I love your Squid Family of clothes!
Happy Weaving,
Terri
My website: www.saorisaltspring.com
https://saltspringweaving.ca/wp-content/uploads/2015/06/5-1.jpg
993
1324
Terri
https://saltspringweaving.ca/wp-content/uploads/2016/11/SAORI-Salt-Spring-logo-1-1030x158.jpg
Terri
2015-06-17 18:04:48
2017-08-05 12:58:56
The Squid Family – by Lynn Jones