SAORI AiR (Artist in Residence)
I've been enjoying more time to weave this last week. My living room has become my second studio and been filled with fibre & fun.
So, I made some warps this week which I absolutely love, love, love to do! One was for a commission – "Spring Garden"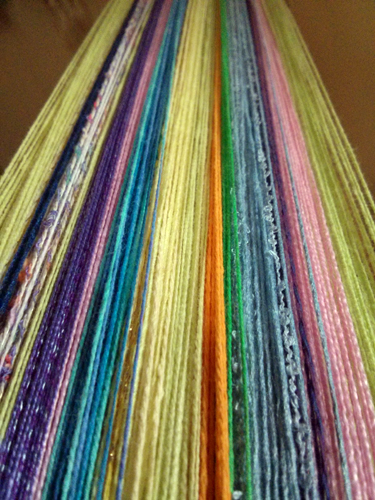 Another was for my weaving…
When I threaded this one I used an open and random sett and also wove it very loosely…
I'm happy with the result – very lacy. Not sure yet what it will become.
Then I did a second piece, again experimenting with something different…
I left big loops in the centre of the weaving, not measuring them, but just pulling them up to the height of the shelf (more or less) each time. After taking it off the loom, I spread it out…
I will be attaching this to a branch of some sort and using it as a wall hanging. The loops will create a nice drapey bit in the centre – I just need to sort them out a wee bit.
There's more, but that will wait for another post. Also, I will be announcing details of an Artist in Residence opportunity for someone to come and share SAORI weaving with me here at SAORI Salt Spring this fall.
Happy Weaving,
Terri
My website: www.saorisaltspring.com
https://saltspringweaving.ca/wp-content/uploads/2015/02/feb9-15-12.jpg
800
600
Terri
https://saltspringweaving.ca/wp-content/uploads/2016/11/SAORI-Salt-Spring-logo-1-1030x158.jpg
Terri
2015-02-09 13:26:36
2017-08-05 13:50:18
SAORI AiR (Artist in Residence)