Lynn Jones – reflections on her Artist in Residency at SAORI Salt Spring – Fall 2016
I was delighted to be the Artist in Residence at SAORI Salt Spring for 3 1/2 days this month. The deciding factor for me was 'weaving on Salt Spring Island without distraction'! I have a very full life at home. Both of my sons are living with me right now, my hubby, Bob and my (getting very old and grumpy) dog, Wilma. Though I have a 'studio space', it is shared. With musical instruments and a family computer and lately, some silver smithing / jewelry making tools. I love the busyness of it all, but it does impede the creative process for me. One thing that I took away from my time on SSI is that I'm best really early in the morning. Always knew that, but never really put it to creative use. So, from this time forward and forever more, I will use the time from waking til 9:00 am to be creative, alone, with my cloth and my babe (draping, shaping, cutting and sewing). I can weave with everyone around, but I can't improvise with my cloth unless I have some peace and quiet. So, I had time to create…2 pieces I'd woven earlier. A jacket in blues with blue jean sleeves and a tunic woven with fabric from some thrift store finds.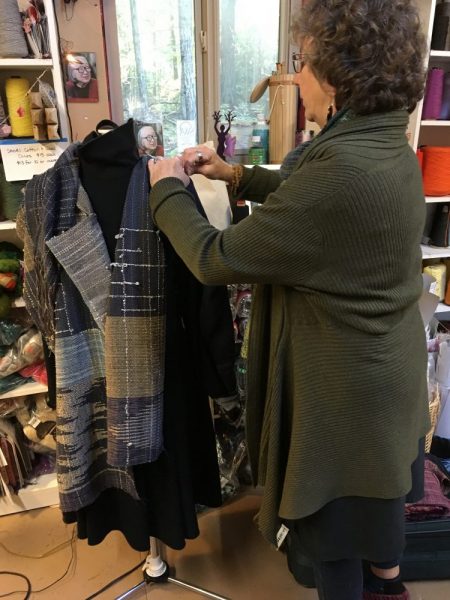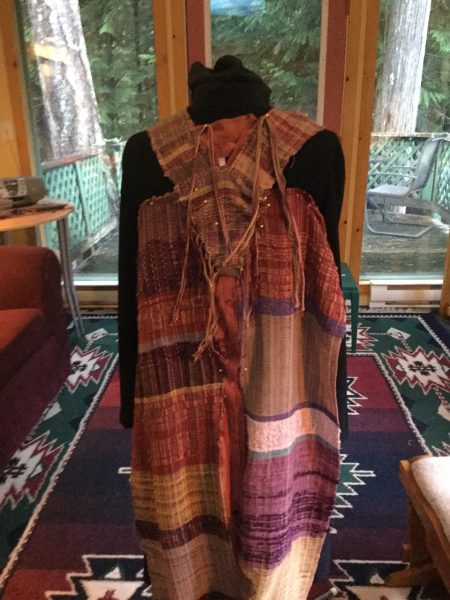 The other amazing experience I had with Terri was the time to collaborate on a weaving. I had 'scored' some thrift store silk. 75% off beautiful blue, green, pale yellow, mustard and white silk threads! This was our inspiration.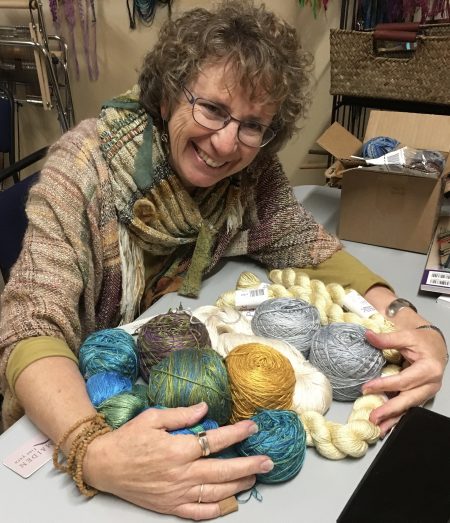 Though I had a plan for the weaving, it became something completely other! SAORI philosophy tells us to listen to the cloth, not to plan ahead of time, to weave ourselves. So, the plan I had will materialize on some other visit. What Terri and I created was a kelp bed, unintentionally of course . The whole weaving was shared…every piece that went into it, every idea, all the threads. As Terri so beautifully put it, there were no egos. We threw ideas back and forth. We have so many more ideas to put into our future weavings!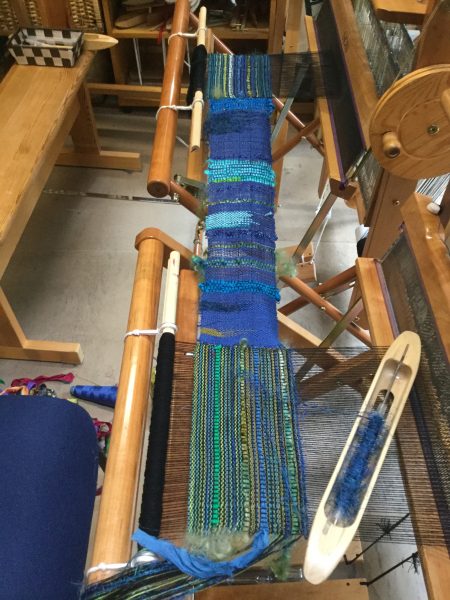 It was just as much fun weaving as it was photographing the experience. We had to keep reminding each other to take pictures….. And sometimes we just got silly!
I had time to create in the cottage.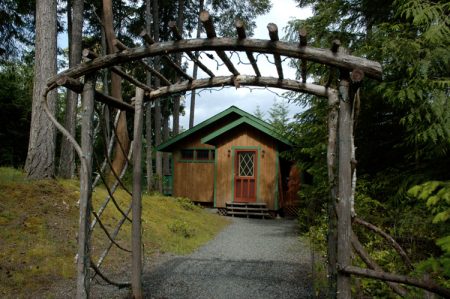 To cook for Terri and Alan. To sip wine and listen to music. Carole King's Tapestry was my go to cd. How appropriate!!!
I am so very grateful for the experience of being the AiR. Looking forward to annual WOWWWs (weeks of weaving, wondering and wandering) and whatever else comes from my journey into SAORI weaving and it's never ending possibilities.
I read this quote from Misao one morning:
"I am often asked, "What did you do before you started weaving? You must not have been just an ordinary housewife." Well, when I was twenty five years old, I had a profound experience that opened my eyes. Some would call it a revelation sent by a Supreme Being. Anyway, it turned out to be my work for the rest of my life. In my pursuit of this, I have always been aware that some great, invisible power is within me. Looking back, I see that each small incident I experienced as an ordinary house-wife (mother, sister, banker for me) led me to this path. All the experiences in the past were preparation for what I am now doing. Simply put, everything was leading me to comprehend that kansei (the significance of an intuitive sense of beauty existing inside of us.) is inherent in everyone."
How appropriate for me to read this while being the AiR.
————————————————————————————
I had a great time with Lynn. It was fabulous to collaborate and explore together – so many ideas!
Happy Weaving,
Terri
Next Artist-in-Residence: February 2017 application info tba
My website: www.saorisaltspring.com
Or you can find me more often on Facebook or Instagram.
https://saltspringweaving.ca/wp-content/uploads/2017/01/AiR9-450x523.jpg
523
450
Terri
https://saltspringweaving.ca/wp-content/uploads/2016/11/SAORI-Salt-Spring-logo-1-1030x158.jpg
Terri
2017-01-07 08:06:18
2020-03-06 17:17:41
Artist in Residence (AiR) – Fall 2016