Meg in Nelson, who I was able to finally meet in person this past year, hosts all kinds of lovely ideas for connecting and sharing ideas and works and weaving. She had Loomsday (check out all the links on her post) on New Year's Day – which I interpreted as "What's on your Loom", but which I heard later is more of a tradition of honouring our tools – and in this case looms. I'll remember that for next year, though it was interesting to see what was on everyone's loom too!
The most recent activity that I participated in was called Weaver to Weaver 2015 (W2W15), where we were to gather some things to send to another person as inspiration, thoughts, ideas, etc. in the form of a small envelope full of goodies.
I received one in return – from Meg!
Wow Meg! So many things, so many possibilities. Perfect for SAORI in which I always say there are 'endless possibilities'.
In her handwritten note, Meg describes some of the items and why she included them…
Then, the other day, I was out in my studio and looking at some fine cotton that I received. It is from surveying instruments. I have many cones of it, it is all white and finer than I would use for weaving. So, I got out my cone winding tool and starting combining many of the threads together – in this photo 4 threads…
I am not plying or twisting them, but just putting them together and winding the cone. An idea came to me as I was doing this and it came from one of the items in my W2W package….the map. Surveying cotton and creating a map – that seems to go together. So – I have the beginning of another new idea from just one of the items. It will be interesting to see what other ideas come from this packet of inspiration…papers, chocolate wrappers, paintings, calendar photos, threads of different colours, complex cloth, flowers, geometric designs – endless!
Thanks Meg!!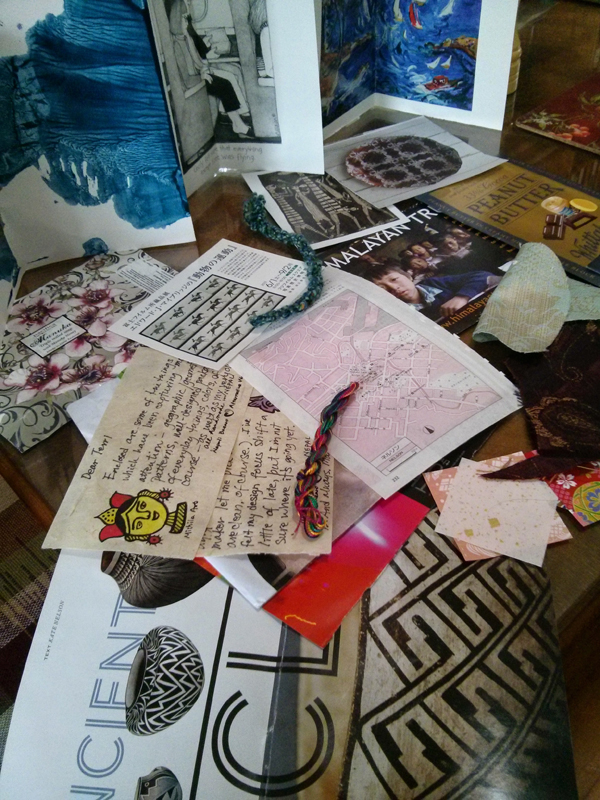 Links to other W2W15 posts here.
Happy Weaving,
Terri
My website: www.saorisaltspring.com
https://saltspringweaving.ca/wp-content/uploads/2015/02/w2w15-2.jpg
800
600
Terri
https://saltspringweaving.ca/wp-content/uploads/2016/11/SAORI-Salt-Spring-logo-1-1030x158.jpg
Terri
2015-02-19 11:08:14
2017-08-05 12:53:24
Weaver to Weaver (W2W15)