I have been wanting to go to Japan during Cherry Blossom season ever since I started Saori Weaving and made my first trip there. Last year I missed it by a couple of weeks. This year it is my prayers that I'm sending to Japan.
However, this weekend there is a Blossom Festival on Salt Spring Island!! How cool is that?? So, I'm going to participate and take my Saori loom with a 'blossom' warp on it and take a basketful of blossom-y yarns and invite people to weave.
The banner, when completed, will be sent to Japan as I see it as a sign of new growth, rebuilding, collaboration and hope.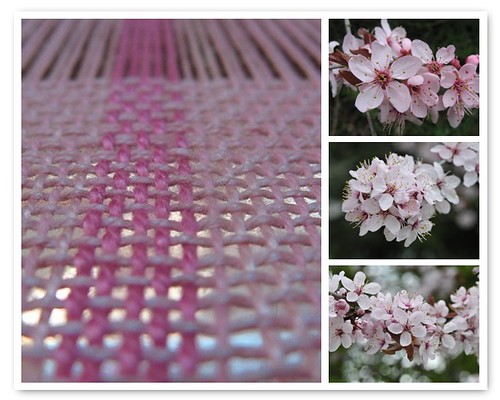 This will happen on Sunday, April 10 at the Harbour House Hotel in Ganges on Salt Spring Island from Noon – 5pm. There are many other events happening too.
If you are able, please come by and add some threads of hope and spring to the banner.
A friend of mine just sent this quote that I think is so appropriate – and so I've added it to this post:
Yoshida Kenko once said that "Blossoms are scattered by the wind and the wind cares nothing, but the blossoms of the heart no wind can touch."
Happy Weaving,
Terri
My website: www.saorisaltspring.com
https://saltspringweaving.ca/wp-content/uploads/2011/04/3488627737_888274b0a9.jpg
400
500
Terri
https://saltspringweaving.ca/wp-content/uploads/2016/11/SAORI-Salt-Spring-logo-1-1030x158.jpg
Terri
2011-04-07 17:11:04
2022-09-06 10:21:28
Blossom Festival