I am pleased to announce the next Artist-in-Residence at SAORI Salt Spring. And I want to thank all the others that applied…the decision was not an easy one!
March 2016 Artist-in-Residence – Stacey Piwinski, MFA of Massachusetts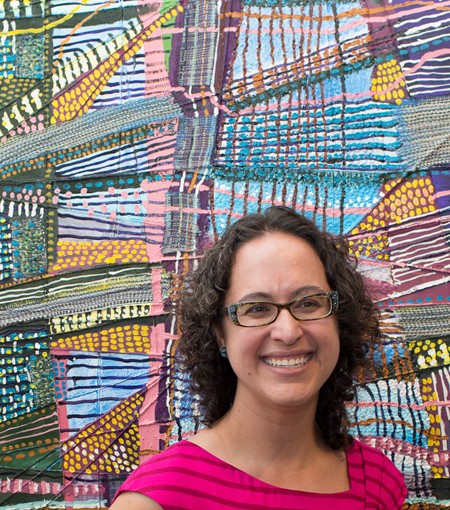 I have met some of her connections to SAORI – Mihoko Wakabayashi of SAORI Worcester and Bobbie Herron – and I look forward to meeting her soon.
She will be here in March and coming to the workshop days and SAORI Kai at Pacifica Paddle on March 12 & 13.
She says:
I would like to continue my abstract woven portraiture work, but this time instead of working with friends, I would be making new friends in new places. I have no idea where this new work will take me, but I am excited, a little scared, and willing to find out my getting my hands in an allowing the loom to make those soothing clicking sounds and guide the conversations and the fabric row by row.
Her Artist's Statement for an upcoming show:
Although her work speaks to painterly concerns, Stacey Piwinski (CFA'99,'00) uses textiles and found materials to create intricate weavings that consider the passage of time, the tactility of material, and interpersonal relationships. In her fabric scrolls and mixed media works, Piwinski carefully re-contextualizes objects that have personal significance or simply have been left behind. In these material and personal explorations of memory, Piwinski allows the objects to weave together new meanings and to tell new stories.
The show:
Sherman Gallery, Boston University Art Galleries
Stacey Piwinski: It's not you, it's me
January 22 – March 4, 2016
About Stacey
Stacey received her BFA in painting in 1999, her MFA in studio teaching in 2000 from Boston University, and most recently her MFA in visual arts from Lesley University in January 2014. Stacey participated in the Japan Fulbright Memorial Teaching Program in 2005 and was inspired by Japanese textiles, specifically Saori Weaving. As an arts educator in the Wellesley Public Schools, she has facilitated community-weaving projects as a way of connecting individuals. Weaving as a metaphor for bringing people together is a thread that runs through all of her work.
You can see more of her work here.
I'm looking forward to her SAORI explorations here at SAORI Salt Spring. I hope that many of you can join us for a SAORI Kai on March 13!
Happy Weaving,
Terri
My website: www.saorisaltspring.com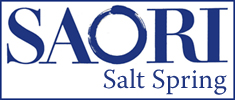 https://saltspringweaving.ca/wp-content/uploads/2016/10/air-stacey.jpg
1600
1066
Terri
https://saltspringweaving.ca/wp-content/uploads/2016/11/SAORI-Salt-Spring-logo-1-1030x158.jpg
Terri
2016-01-13 21:26:20
2017-01-04 20:39:05
Artist-in-Residence – Spring 2016