Welcome to the SAORI Salt Spring Weaving Studio
SAORI is  weaving from the heart.  No rules, no mistakes.  But it is so much more!
The philosophy or slogans of SAORI and the writings of Misao Jo inspire an approach to weaving that opens the heart and the mind.  No longer are there patterns to follow, the designs and ideas come from inside and from inspiration through sharing with others.
Come and immerse yourself in the colour and creativity of the SAORI way!
Join SAORI Salt Spring and learn to weave!
COVID-19
Since mid-March 2020 the SAORI Salt Spring Weaving Studio has been mainly closed. Regular studio classes, workshops and retreats have been cancelled or postponed and will be for some time still.
June 15, 2021 Update
Zoom at your Loom classes, Hangouts, Shop online

Studio update
Health and safety remain top of mind in this Global Pandemic. With that in mind, in-person classes remain on hold.
Summer Zoom Mini Retreat Days
Save the dates – July 20, 21 & 22.  Can't travel here yet? And I cannot hold workshops yet…so let's have a Zoom retreat together.  Each day will focus on a topic and we will Zoom together in the morning, early afternoon and the end of the day.  Sakiori weaving, Bengala Dyeing and SAORI style tapestry weaving … more on my workshop page here.
Zoom at Your Loom Classes
You can join in with others and weave along.  Just bring your device to your loom and we will weave together.  I will give demos on things you may be interested in, you will get to chat and share with others as we weave.  I will "walk" around and see what you are weaving and we will talk about SAORI.  See details on my workshop page.
Also, check out the special classes on Clothing Design, Squid and Vest Design, Warping, Pulling Warp Threads, Bias Box Design and Loom Maintenance, or if you have a suggestion, please let me know.
Words to Weave – A Virtual Exhibit – June 25 – July 5, 2021
14 Artists come together to share their weaving, inspired by words.  Opening on June 25 (virtually), Artist's Talk on June 27.   www.wordstoweave.com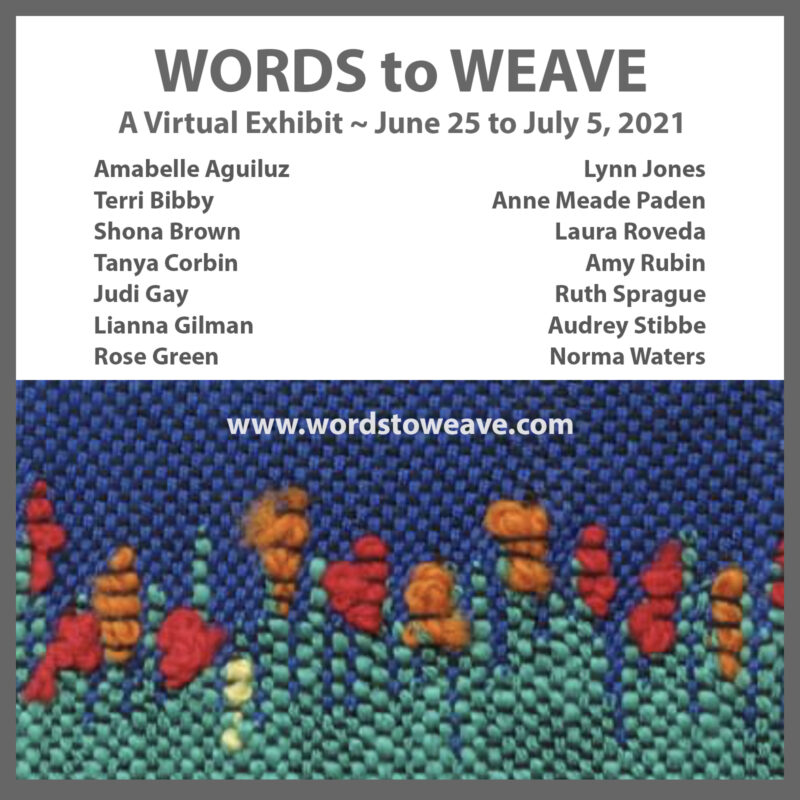 Newsletter
You can read my latest newsletter here.
SAORI Zoom Hangouts
I've been offering Zoom SAORI hangouts from my studio – the next one will be July 9 at 11:00 Pacific time for one hour.  Email me at saltspringweaving (at) gmail.com if you'd like to join in – it is $10.  All are welcome.  They are 1 hour long and  have an opportunity for show and tell, questions, a SAORI reading from the Self Innovation book and time for conversations about creativity.
Shop update
My Handwovens are now online and available for purchase, along with items by Lynn Jones of Victoria.  We are adding more to our shop in the coming weeks.  You can find it at www.saorisaltspringweaving.com.
The SAORI Salt Spring shop remains open online and I am so grateful to all of you who have been purchasing yarn, warps, books and even looms.  I'm so happy to support you in your weaving and it also has been a great support to me.  Thank you!
You can also shop online at my ETSY shop for SAORI looms, books, yarn and equipment.  I've been adding more online since you cannot be here in person.  Please email me if you have a question or would like to order directly at saltspringweaving (at) gmail.com.
Online Classes
I also offer small group or one-on-one online classes.  I invite you into my studio ~virtually~ to enjoy some weaving time.   These classes are 1 hour one-on-one classes via Zoom or FaceTime or 1.5 hours via Zoom for 2-3 people.  We can weave together, share the SAORI philosophy, discuss clothing design or talk about anything to do with SAORI weaving.  Please email me for details at saltspringweaving (at) gmail.com if this might be of interest to you.
More details on classes here.
Fashion Show
Thanks to Mihoko at SAORI Worcester for putting together these fun Fashion Shows on YouTube.  Great inspiration for Clothing Design!  And there is one more to come – deadline for submissions is June 1.
Be well
I hope you are well.  I hope that you are taking some time to do things that bring you joy and I hope you are able to spend some time outside.  These are crazy times this #lifeinthetimeofcorona, so take care of yourself, your family and your creative side.
---
I continue to post my weaving, and my walks on my Facebook page and on Instagram. I look forward to seeing you there too.
In the meantime…be well, stay safe and Happy Weaving,
Terri