I have been weaving Peace Banners for four years now and thoroughly enjoy it. It is always a collaborative event. Here is one that was completed on International Peace Day (Sept. 21) in 2007…
This year, I read about Peace Felt and decided to participate. We were given the name of a person who would send us a package and also the name of a different person to send to. The peace would be passed in a circle.
I received my beautiful Peace Felt rug in the mail from Arizona…
Of course, the cats had to check it out…
I also received some wonderful hand looms called "Wee Walnut Weavers" and a lucet – all handmade by Kristi.
I sent off my package to Maryland. I made a bag with local Salt Spring wool from the Gulf Islands Spinning Mill. It is crocheted and then felted. I call it "Serenity".
And so the circle of peace continues…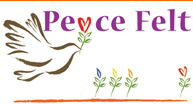 Peace to all,
Terri
My website: www.saorisaltspring.com
http://saltspringweaving.ca/wp-content/uploads/2016/11/SAORI-Salt-Spring-logo-1-1030x158.jpg
0
0
Terri
http://saltspringweaving.ca/wp-content/uploads/2016/11/SAORI-Salt-Spring-logo-1-1030x158.jpg
Terri
2010-10-02 08:18:25
2010-10-02 08:18:25
Peace Felt