SAORI Artist-in-Residence
Take some time away to explore the SAORI philosophy in a beautiful and quiet setting on Salt Spring Island, BC.
SAORI Salt Spring offers an Artist-in-Residence program twice per year – in February or March and November.  If you are interested in coming at another time I offer my regular weaving retreats.
At the Artist-in-Residence, you will have full access to the SAORI Salt Spring studio. This is different than a weaving retreat as it is a self-guided exploration of SAORI.
unlimited use of the SAORI Salt Spring studio – looms, tools & equipment
a chance to explore your SAORI practice without distractions other than the beauty of the island
sharing of your work on SAORI Salt Spring Instagram, Facebook and a Guest blog
collaboration possibilities with Terri & other local weavers

transportation to and from Salt Spring
transportation on the island (though ferry pick-ups can be arranged)
accommodation not included
food/meals
SAORI instruction (can be arranged at an extra charge)
materials – you will have access to a wide variety of material for warp and weft – though there is a materials charge for what you use

$650/person for a one-week retreat
materials are available at an extra charge at the standard studio rate

 

The SAORI Salt Spring Artist-in-Residence will be available again in the spring of 2019 – between February and April – the specific dates to be determined in conjunction with the person coming and my schedule.

I'm looking for someone that is comfortable with SAORI weaving, the looms, warping and sewing who wants to have the studio space to explore their own practice in a quiet space in the woods. If someone is interested in doing some collaborative work that would be wonderful too! This is not a teaching workshop, though of course learning always happens!

Deadline for applications is December 10, 2018. All applications will receive a reply acknowledging the receipt of the application and a decision will be made by December 19.

To apply please send an email to saltspringweaving@gmail.com with the subject "SAORI Artist in Residence" plus the year and month you are applying for (either November or February).

Please include in the email:

Your name
Email address
Your website
Your social media links (FB, Instagram, blog, etc.)
Your SAORI weaving background – number of years, classes or workshops taken, types of things you have woven and what you like to weave.  As this is different than a retreat (which includes instruction) it is expected that you are familiar with SAORI weaving, the philosophy and the looms and are comfortable working on your own….though I always love to collaborate!
Let me know why you are interested in the Artist-in-Residence on Salt Spring Island
What inspires you?
Do you have a particular objective in mind for the week?
Dates are a bit flexible – let me know if you have preferred dates during the month.
Anything else you'd like me to know about

I will acknowledge all emails by reply email within 5 days. If you haven't heard from me, please check in by phone or email to make sure that I have received your information and application.

Applications deadlines will be published on the website for each Artist in Residence.

Note: This residency is for one person, but if there are 2 people who would like to attend together that would also be considered, both people should indicate this when applying.

Accommodation Note: If you need accommodation, please feel free to email me about possibilities as there are many places nearby and also an option to stay on-site.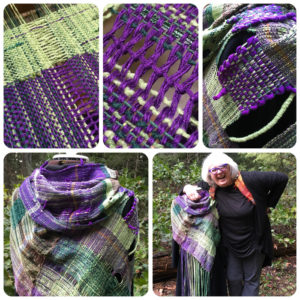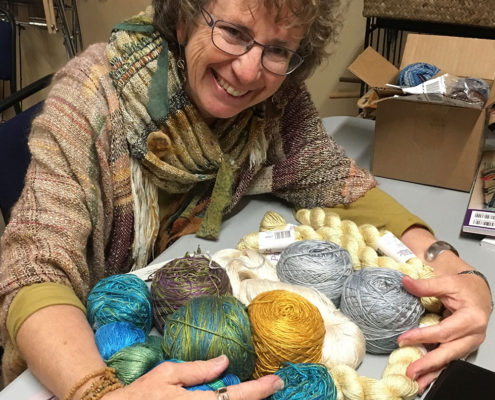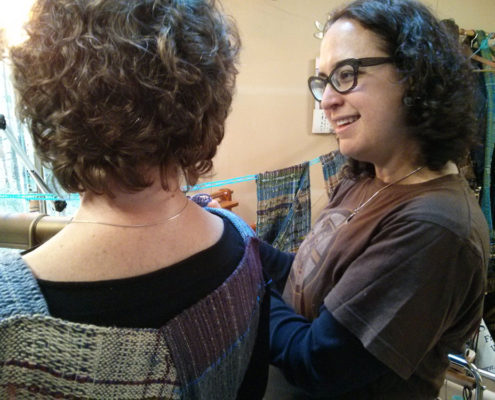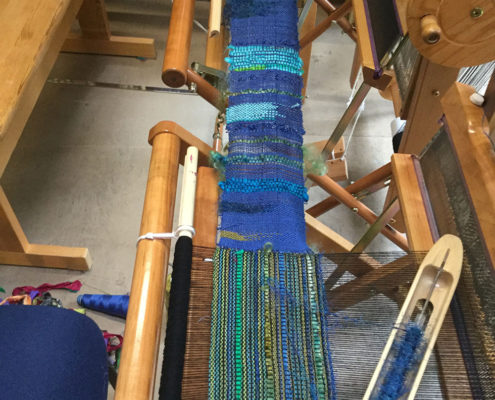 Previous Artist in Residencies:
Judy Sysak, Tin Roof Fibre Studio - March 2018

Tanya Corbin, Edmonton, Alberta - December 2017

Michelle Boyd, Olds, Alberta - February 2017

Lynn Jones, Victoria, BC - November 2016

Stacey Piwinski, Boston, MA – February 2016

Susan Norton, Folsom, LA – November 2015